easYgen 1000 Series (UL,CE)
Woodward easYgen-1000 series

 is designed for a single-generator set used in critical stand-by or prime power applications with automatic changeover capability. The controllers include purpose-built algorithms and logic to start, stop, control, and protect the genset, open/close circuit breakers and mains supply monitoring with automatic changeover. Equipped with state-of-the-art communication interfaces, Woodward's easYgen-1000 Series of AMF genset controllers provides exceptional versatility and value for OEM genset packagers.
The easYgen-1000 Series is available in four versions:
8440-2255 - easYgen-1800, advanced AMF controller comes with a large liquid crystal display (LCD), I/O expansion capability, Ethernet and SD card connectivity

8440-2256 - easYgen-1700, based on easYgen-1800 platform, easYgen-1700 offers all the capabilities except Ethernet and SD card connectivity and a 240x128 pixels Monochrome LCD in same size.

8440-2253 - easYgen-1600, compact AMF controller offers a state of the art LCD, adequate on-board I/Os and common industrial connectivity

8440-2251 - easYgen-1400, small AMF controller contains a big liquid crystal display (LCD), configurable I/Os and electronic engine support.
ToolKit-SC is a single service tool for configuring easYgen-100 and –1000 series controllers. The module's password-protected integral front panel lets you adjust various parameters on-site.
Application:
Standard break-before-make application in 

Stand-by operation

AMF (Automatic Mains Failure) operation

ATS (Automatic Transfer Switch) operation

Rental power operation

Peak shaving operation

Easy to set up and commission

Best in class large liquid crystal display

Comprehensive engine, generator and utility protection

Engine ECU interface to electronic engines

Programmable I/Os

Six communicationports:

Ethernet TCP/IP,

CAN J1939, RS-485,

RS232, USB,

SD card slot

Dedicated relays for engine and breaker interface

Switchable parameter sets for mobile genset applications

Event log and eventtriggered data logWrite one or two paragraphs describing your product or services. To be successful your content needs to be useful to your readers.
Features
Three-phase true RMS power sensing

Operation modes: AUTO, STOP, and MANUAL modes accessible through front panel, discrete inputs or via interfaces

Remote control via multiple interfaces and discrete inputs

Direct support of several ECUs, such as Bosch, Cummins, John Deere, MTU, Perkins, Scania, Volvo, Woodward

Dedicated relay outputs for cranking and fuel solenoid

Event and data logging capabilities with real time clock

Maintenance scheduler with multipurpose flexible timers

Operating hours, start, maintenance counters and monitoring

Three switchable parameter sets of AC system winding, Rated Voltage, Rated Frequency, Rated Current, Rated Power, Rated Speed

Can be configured from computer via USB or from front panel with password protection

Manual breaker operation with tactile buttons on front panel

Custom boot-up logo with adjustable screen display time

Multilingual customizable user interface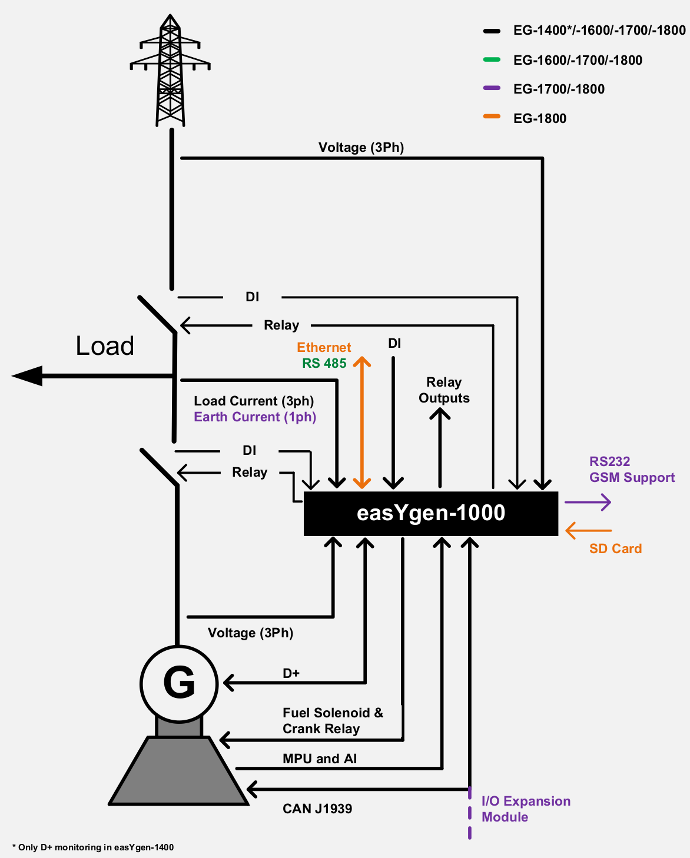 Downloads
Specification

Name
Open

EASYGEN-1000-SERIES PRODUCT SPECIFICATION

Open

EASYGEN-1000 PRODUCT SPECIFICATION

Open

Manuals

Name
Open

EASYGEN-1800 TECHNICAL MANUAL

Open

TECHNICAL MANUAL EASYGEN 1600

Open

EASYGEN-1700 TECHNICAL MANUAL

Open

EASYGEN-1400 TECHNICAL MANUAL

Open